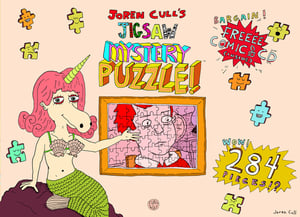 $

17.99
Limited edition, hand numbered mystery puzzle!!
This 284 piece puzzle will surprise, and delight you and your loved ones as you all discover the image you are piecing together as you go!
Completed puzzle is full colour, 12 x 16 inches, suitable for framing and appropriate for all ages.
Additionally, you will receive a 10 page puzzle themed comic and a 40+ minute mystery CD inside your puzzle box!
Supplies are very limited.